Website Portfolio
Kapsenberg Website Design, Haarlem, Netherlands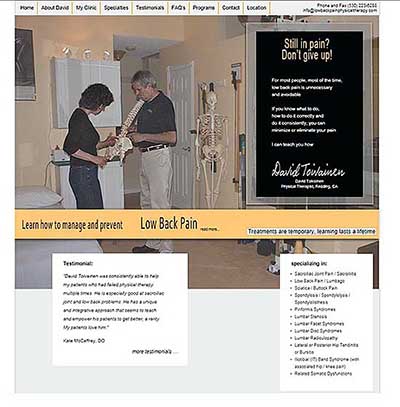 Physical Therapist, David Toivainen, PT, MS, specialized in low back pain (www.lowbackpainphysicaltherapy.com)

David Toivainen called us to make a website for his physical therapy clinic. He was looking for a website that, unlike the more "template" looking websites from most clinics, could better represent his specialty clinic and his special therapy approach. We created a website around his practice: the setup of his clinic, the way he treats his patients and the patients he can successfully 'treat' in his clinic. The whole website represents him as the unique physical therapist he is.
∼◊∼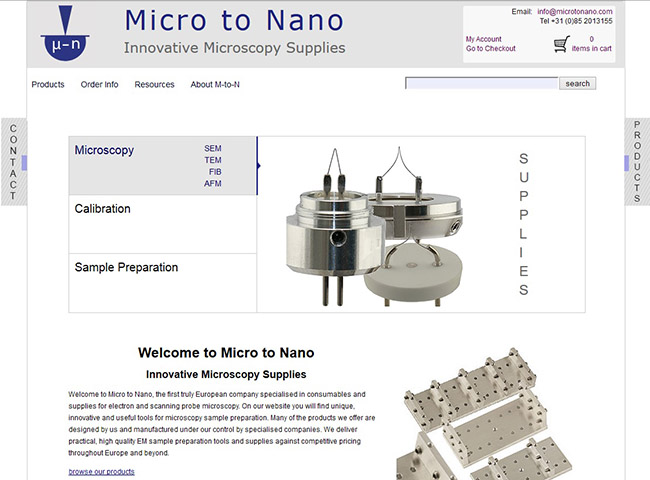 Micro to Nano, supplies for microscopy (www.microtonano.com), Haarlem, Netherlands

For Micro to Nano we designed the website an software for their company
∼◊∼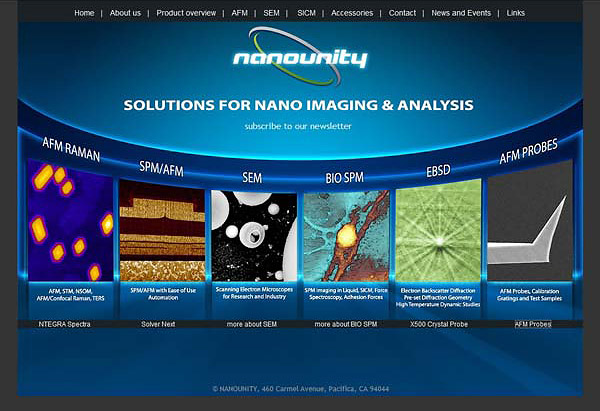 Nanounity (www.nanounity.com) in Pacifica, CA

Nanounity is a sales and marketing company specializing in nanoscale imaging and analysis instrumentation. They provide unique solutions for Atomic Force Microscopy, Scanning Electron Microscopy, and related products.

They approached me for renewing their website with emphasis on search engine optimization, making it visitor friendly, and optimizing the display and information of their products. We designed and developed a site that completely integrated their marketing strategy with an interactive, eye-catching front page. From there the visitor is lead smoothly to the most relevant information.
∼◊∼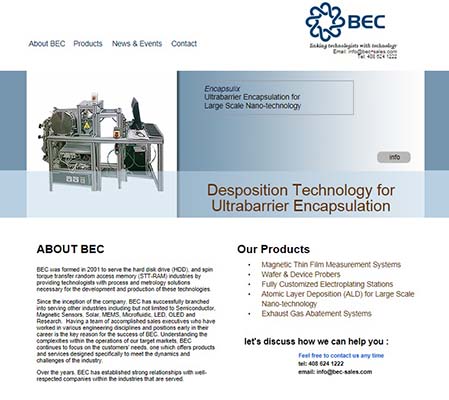 BEC: company for Process, Testing & Metrology Equipment Solutions (www.bec-sales.com) in San Jose, CA


BEC specializes in Process, Testing & Metrology Equipment Solutions. They approached us for a professional website to show different high tech industrial solutions they offer. Naturally search engine optimization was a top priority as well an informative and very visitor friendly content, that should lead to contact and sales. This website has an interactive product menu that moves up if hovered over "products" on the menu. This is an example of a very visitor friendly way of presenting a huge amount of information without overloading a page.
∼◊∼
Hand Woven Rugs by Pat Monié (www.hand-woven-rugs.com) Redding, CA

Pat Monié is a very talented local weaver of artistic designed rugs. We designed a webshop for her that reflects her personality, work, and needs. We programmed with PHP and MySQL databases a custom made content management system, which enables her to run the webshop without our help. She is able to upload new rug photos, fill in all the data, and the programming takes care that those details are shown were needed.
A few days after launching the website, she placed an add on the San Francisco Craigslist. She immediately got a reaction from another rug webshop owner:"Your web site is unique and interesting. I Like the concept". This is what our work is about: building interesting and unique websites. The result: The Craigslist adds resulted in a low bounce rate (17%) with visitors looking at more than 5 pages on average.
∼◊∼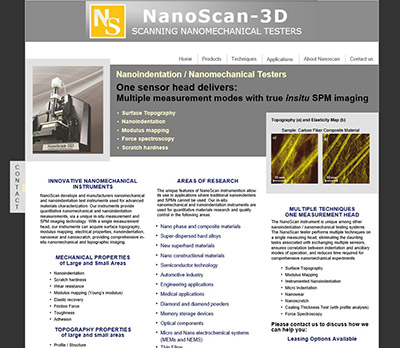 NanoScan (www.nanoindentation-nanomechanical.com) San Jose, CA

For the global representative of the Russian company NanoScan we created this website. Together with our client we provided a convincing - visitor friendly website with a high organic search engine ranking.
∼◊∼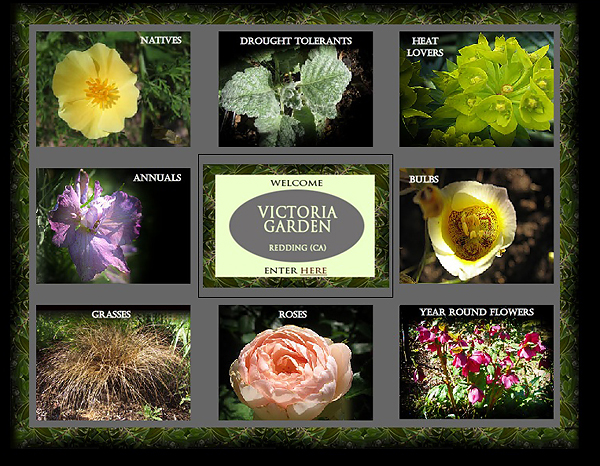 Victoria Garden (www.kapsenbergdesign.com/garden) Redding, CA

Victoria Garden is a website originaly designed for gardeners in the Redding area. The site presents a private garden and its plants. Interactive lists give useful plant information like growing habit, flower colors, hardiness of plants, etc.

This website became hugely popular. The Search Engine Optimization from Kapsenberg Design results in more then
500000 visitors / month from all over the world and visitors numbers are still climbing up.

This site contains loads of photos (nearly all taken by Kapsenberg Design) from Victoria Garden and other gardens in the Redding area.

An automatic plant-collection managing system, programmed with PHP and MySQL, was designed by Kapsenberg Design to fill the databases, so when one plant is inserted or deleted, the whole site automatically adapts. JavaScript was used to program the different slide shows.
∼◊∼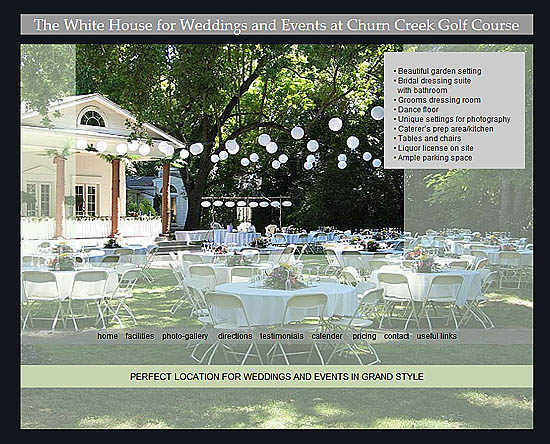 The White House (www.whitehouseredding.com) Redding, CA

The White House at the Churn Creek Golf Course offers a location for weddings and events in Redding, CA. They wanted a website that showed all the unique aspects of this new enterprise on the Churn Creek Golf Course. We opted for a website which reflects the special atmosphere of this venue, without using the normal "pink" wedding clichés.

With the help of JavaScript and JQuerry we build many different slide shows that give future clients an opportunity to preview this venue. A very user friendly photo gallery lets the visitor look around at their own speed.

We also programmed a booking page where, with help of a PHP/MySQL driven database, the owners themselves can fill in data, and future clients can find out which dates are still available.
After finishing the website, we created a logo, advertisements, business cards, and postcards for distribution. We even installed a local server on their laptop, which enables them to run the website during a trade show without an internet connection. You can read their review here.
∼◊∼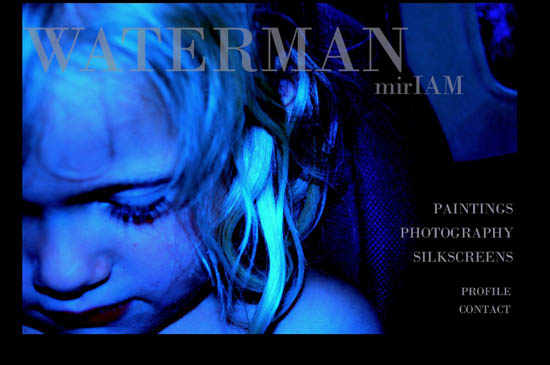 Miriam Waterman: Paintings, Photography and Silkscreens (www.miriamwaterman.com) , New Orleans

Miriam needed a website for showing her work to art galleries and clients. She wanted a very simple, but stylish website, where nothing would distract attention from her work. She also liked a photo gallery where you could see her work by just hovering the curser over the thumbnails. Read her story to know how we worked closely together creating this site.
∼◊∼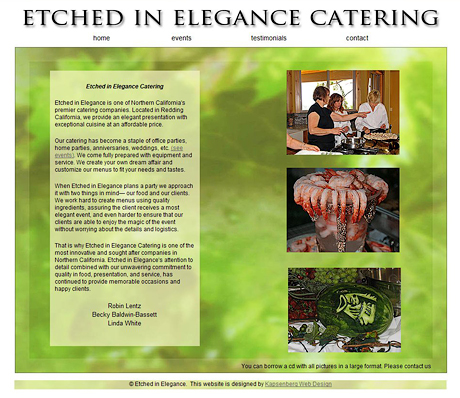 Etched in Elegance Catering (www.redding-catering.com) in Redding, CA

Etched in Elegance is a catering company in Redding, CA. Robin Lentz of Etched in Elegance asked me to make a website to attract future clients. After discussing all facets of their business, I had a very clear picture of this high-class catering business. The company specializes in customized catering with excellent food, made from fresh, quality ingredients (yes I tasted it personally!!). They combine this high standard food with an elegant presentation, which you wouldn't expect from a small company located in Redding. This became the foundation for the website.

We opted for a crisp and clear looking site, showing their food and presentation in detail. With this task in mind I went with them on a few catering events and took photos. I was able to incorporate 175 different pictures into the website and still keep the crisp and clear character we had in mind.

Besides the website, I designed a new business card for Etched in Elegance and burned 50 CD's with special optimized large format photos they can give clients to take home.

I wish Etched in Elegance all the success I believe they deserve. I can highly recommend this catering company to everyone. Please visit their website and read the review Robin Lentz wrote about the way Kapsenberg Website Design works.
∼◊∼
Tlc Care Plus (www.tlccareplus.com) Grand Rapids, Michigan

Cindy Jesso came to us with a request to make a professional, very visitor friendly website that would pick up a good search engine ranking. In only 10 days we designed and programmed this website in which they offer in-home health care services in Michigan. We completely rethought how to present all the information so that health care professionals as well patients and their family members could easily get the information they needed; enough reasons for everybody to start using Tlc Care Plus services. Tlc Care Plus provided the logo and all the images.
∼◊∼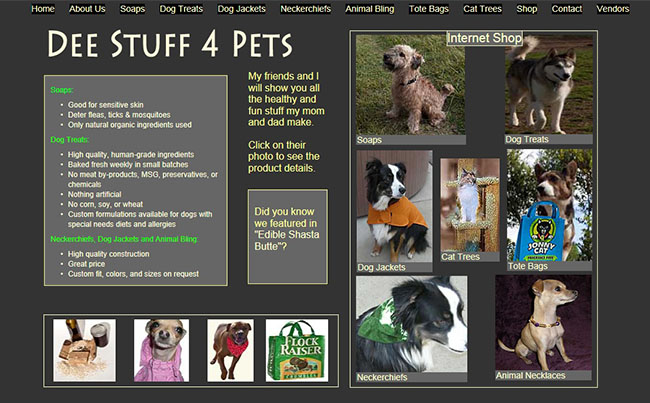 Dee Stuff 4 Pets (www.deestuff.com) , Redding, CA

We designed a webshop For Dee Stuff 4 Pets. The webshop was split up in unique product pages, each with different moving elements to attract attention and promote sales. The dog soaps, dog treats, dog jackets, neckerchiefs, animal bling, animal theme tote bags and cat trees are presented by the animals themselves, who with a touch of humor show the professionalism, knowledge and animal love that defines Dee Stuff 4 Pets.
∼◊∼
Bailey-Lane Nursery, Whitmore, near Redding, CA (www.redding-plant-nursery.com) , Redding, CA

Jim Bailey and Cleo Lane are the owners of Bailey-Lane Nursery. They sell their plants at the Saturday Farmers Market. They needed a website with complicated plant search options. We programmed a website with the following search options:
By name. If you know the botanical or common name of a plant your are looking for, you could use the plant search box on the right-top corner of the plant seach page
By preference. Let's assume you are looking for a native plant, with red flowers which loves the sun, you can set your personal search preferences on the plant seach page, click on the display and we show you the plants that best match your preferences.
By appearance.You are invited to browse photos of our plants on the plant seach page, click on the thumbnail to see more photos and background information.
Quick plant list without photos. On the plant list page. you will find our plant list, which can be sorted by botanical or common name and contains links to the photos and background information.
The small images may be clicked on, which will lead the visitor to a special information page, with more photos and details about that particular plant.

Nearly all photography is done by Kapsenberg Design.
We created for this website a custom made content management system that allows the owners to run this site independently. They can add, edit, or delete plants, photos, market dates, and text. The entire site adapts automatically as changes are made.
∼◊∼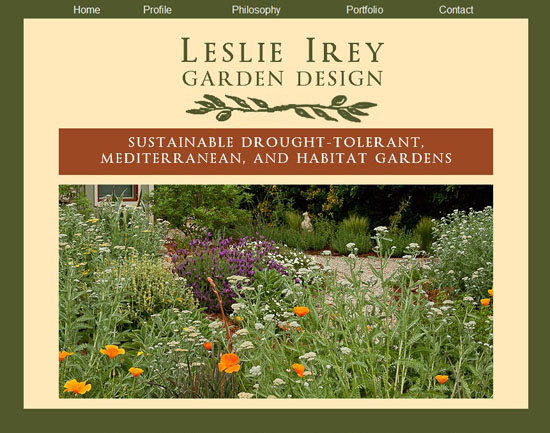 Leslie Irey Garden Design (www.leslieireygardendesign.com) Redding, CA

I met garden designer Leslie Irey at an open garden day event organized by the Native Plant Society in Redding. The photos I took of her garden became the cornerstone of the website she commissioned me to do. We opted for a highly interactive website with user friendly sideshows and photo galleries. They show off her very creative and beautiful garden designs.
Not only are her garden designs beautiful, a haven to relax in, but they are also completely adapted to our local harsh climate.
In all her designs she strives for sustainability, habitat creation, and environmental friendliness. This makes her quite a unique garden designer. On an interactive philosophy page we designed a unique way to show these ideals and the way she incorporates them into her garden design. See Lelie's review, to read her side of the story.
∼◊∼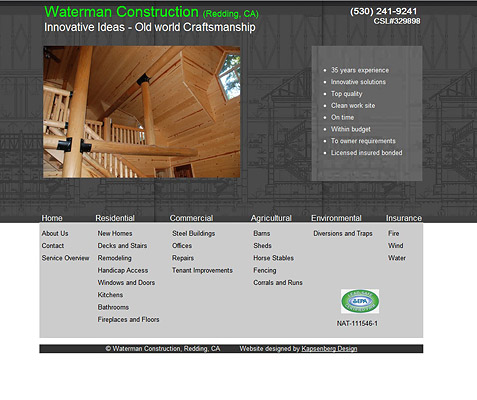 Waterman Construction (www.rwatermanconstruction.com) Redding, CA

Waterman Construction wanted a website to show future clients the diversity and quality of their work. We created a website with many different pages, each showing a different aspect of their work.
∼◊∼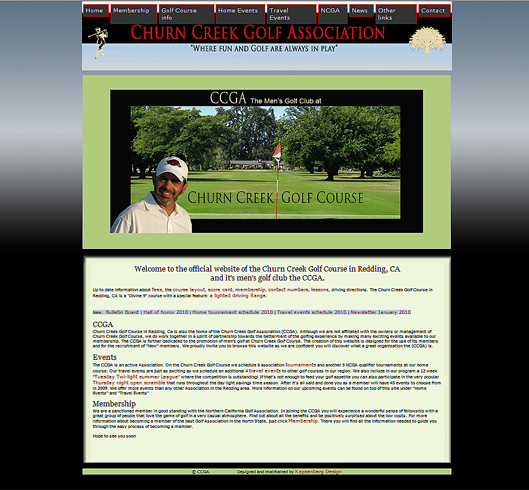 Churn Creek Golf Association (www.ccgagolfredding.com) Redding, CA

Rick Faller of Churn Creek Golf Association approached us to set up a website for their members. They requested a site which foremost informs their members and by doing so, attracts new members. Together we defined the qualities that set them apart from the competing golf clubs of Redding. This was distilled into a message and incorporated into the site.

The next task was to determine the content of the website. The challenge in this part lies in determining which information is relevant to the users and how to distribute it. In the end it culminated into a site with 70 pages for each year.The site makes ready use of pictures. These can be printed out by their members. Rick Faller provided all the original photographs and they were optimized to be used on the web by Kapsenberg design. Kapsenberg design updates this website after every tournament to provide their members with the latest results and pictures.

In January 2010 the site was updated. A interactive bulletin board was added, where members, staff and administrators can add their comments, questions and news, and a membership managing system was installed. With that membership managing system the administrators are able to add data about their members in a database and get out all the info about membership like: contact information; who has or hasn't paid; birthdays each month; how many members there are etc. Read Rick's review, to find out about his experiences with working with us.

∼◊∼
Ten Have Advies (www.tenhaveadvies.nl) Bentveld, Netherlands

Mrs. Ten Have is a legal adviser on real estate matters in the Netherlands, particularly assigned by the public domain. She wanted for all a website with lots of specialized information, with the intention that her clients could educate themselves and be referred to it.

After looking together at different websites she opted for a plain (without logo), user friendly information site in green tones. This website was designed with an emphasis on ease of use and information to be readily available. Every page is accessible through the menu, which can be found on every page of the site. The menu makes extensive use of Headers and sub headers.

Kapsenberg design updates this website regularly. All our communication was over phone (at our expense), skype and e-mail.
Read her review, to hear her side of the story. Read Ten Have's review, to find out about her experiences with working with us.